Lee & Kim
Lee & Kim's amazing day was held at The Mill at Conder Green. We had met there the year previous at a wedding fair I was exhibiting at with Wedding Fayres Lancashire. The Mill at Conder Green is a stunning modern venue located next to the Lancaster Canal, nestled in the beautiful Lancashire countryside.
Pre Wedding Shoot
I met with Lee & Kim at Beacon Fell for their Pre Wedding Shoot, on a very cold and blustery afternoon. Having a Pre Wedding Shoot is an ideal time to get used to the camera and also gives us a chance to get to know each other which leads to more relaxed and natural images on the day.
Bridal Prep
Bridal Prep was taking place in the Bridal Suite at The Mill at Conder Green, and I arrived to find a slightly nervous bride to be. Wedding nerves were definitely on show but Kim was managing to hold it together well. Wedding nerves are nothing new for me, I see it quite often. I often find that Brides tend to calm down once the camera comes out as its a welcome distraction from the millions of worries running through their minds. This worked with Kim and she was soon chilling out.
Kim's Bridesmaids were upstairs getting ready together, luckily the room was huge and there was plenty of mirror space to go around.
I left Kim's girls to catch up with Lee and his Groom Prep. Lee was in another room with all of his groomsmen. Unsurprisingly, the groom prep room was a lot more untidy and chaotic than the girls room!
Then it was back to Kim for her final preparations and some detail shots.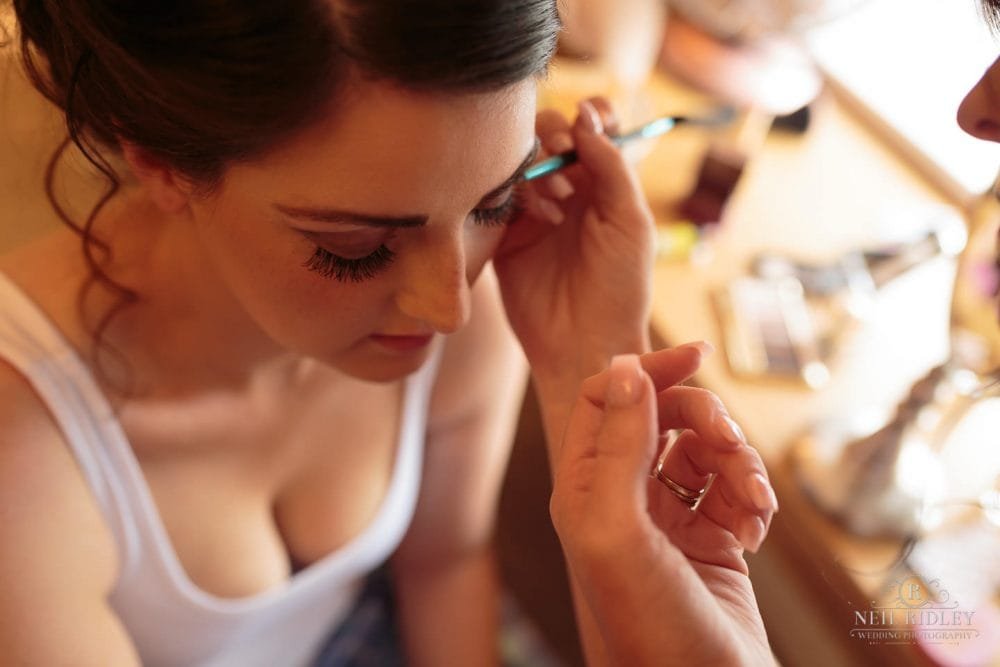 The Ceremony
The rustic looking ceremony room was the perfect setting with the chairs finished with lace ties, and once everyone was seated it was time for the ceremony to begin.
Lee waited patiently for his Bride, supported by his Best Man.
Soon it was time for Kim to walk down the aisle on the arm of her very proud Mum
Lee & Kim exchanged their vows, exchanged rings witnessed by their very dearest of friends and family




The Wedding Breakfast
The wedding guests sat in the beautifully decorated room and enjoyed a magnificent meal, speeches were given.
To lots of cheers, laughter and applause.
Afterwards the guests were able to enjoy the beautiful building and grounds of The Mill at Condor Green.
While the guests were relaxing, I whisked lee & Kim away to get some portrait shots by the canal.

Evening Ceremony
As more guests arrived to join in the evening celebrations, the very talented Darren Robinson stunned everyone with his magic. I was watching him do his routine and I could not spot his sneaky moves.
The amazing cake was cut in the middle of the dance floor.

As the newlyweds took to the dance floor for their first dance, they were watched by their closest friends and family. They danced to the completely unexpected 'Paradise' by George Ezra'!
Ice cream from Notarianni's mobile stand was an absolute winner with the kids and adults alike. This is Kim's daughter watching her ice cream being created.
Lots of dancing was done by the wedding party,
Lee & Kim's wedding day was perfect for them and it was great fun to be a part of it.
To save photos to your phone, download the free Photo Moments app for iOS or Android
then click HERE to view the gallery.
Thank you for taking the time to read this blog post.
I would really appreciate it if you would leave a comment or perhaps share it on your own Social Media.