Park House Hotel
Lewis first contacted me after being recommended by Jon-Paul and Lynsey, after I had captured their wedding the previous year. Lewis and Sharon were getting married at the same venue as them and it was my pleasure to be shooting another wedding at the Park House Hotel on Blackpool Promenade.
Lewis and Sharon had their Pre-Wedding Shoot at Beacon Fell Country Park, on a cold but beautiful evening, with the most perfect sunset.
Lewis and Sharon soon relaxed in front of the camera and both commented on how this helped them during their wedding day.
Sharons Bridal Prep took place in one of the Park House Hotels bedrooms.  At one point I counted 56 people in there… Well, maybe it just felt that way to us, there were actually 6 adults, 2 children and 2 babies all getting ready at the same time and me trying to get images without standing on any incredibly quick moving infants!  Family ties were obvious and strong with everyone helping each other whilst entertaining the kids.
I also had time to leave Bridal Prep and photograph Lewis getting ready. I caught up with him just down the Promenade, at the Barber's in Bispham.  Lewis will understand that I havent shared some of the images from there, lets just say that I still wince thinking about what they did to him with wax and cotton buds.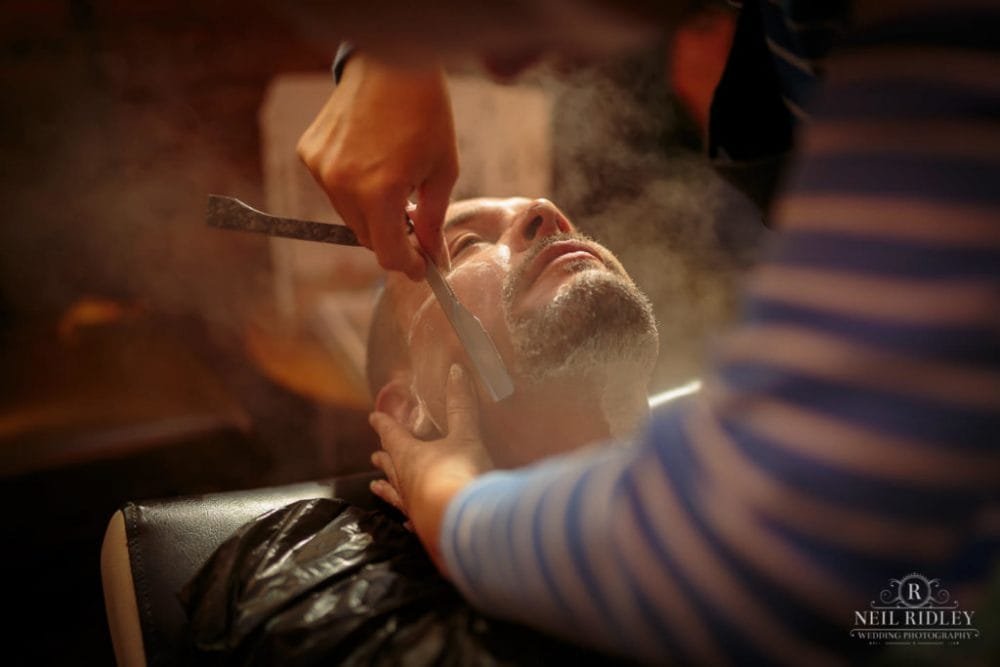 The Ceremony
Sharon and Lewis's wedding ceremony at Park House Hotel was an emotional affair, with Sharon's Father walking her down the aisle bringing a tear to everyone's eye.
Emotional ceremonies like this one remind me why I do what I do. Sharon held it together well despite saying that she would cry, and they both managed to relax enough to share a laugh during the service.
After the Ceremony the Guests enjoyed a brilliant wedding reception at the Park House Hotel. It was a lovely atmosphere centred around the close family and friends that Lewis and Sharon had invited.
After a spectacular Wedding Breakfast it was time to get ready for speeches.
Then it was time to snap a few portrait shots of Mr & Mrs Edwards
Evening Celebrations
Time to cut the sensational cake.
As the evening celebrations began, the Bride and Groom surprised everyone with a planned dance routine that they had been secretly practicing for weeks.
Leaving Sharon and Lewis to enjoy the rest of their party with their very closest of friends and family.
This image sums up Lewis and Sharon perfectly, laughter, laughter and more laughter 🙂
But all the excitement was just too much for this little one.
You could not ask for a more perfect day for Sharon and Lewis, and I was absolutely thrilled to be a part of it.
To view the full album and save photos to your phone, download the free Photo Moments app for iOS or Android
then click HERE to view the gallery.
(Link will go live 8pm, 13 July 2018)
Thank you for taking the time to read this blog post.
I would really appreciate it if you would leave a comment or perhaps share it on your own Social Media.